About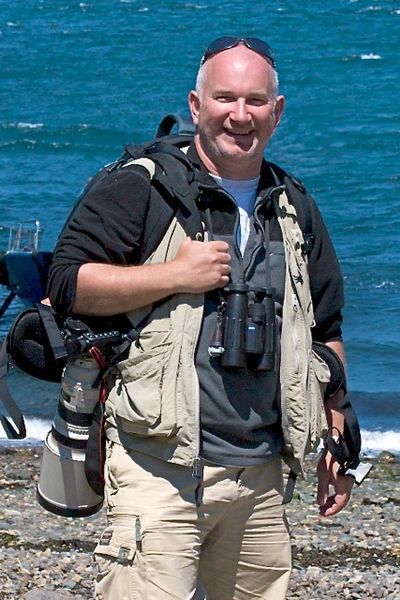 Stuart Elsom ACIEEM LRPS MCMI MInstLM AMSB
Since an early age Stuart has had a passion for all aspects of the natural world. Stuart started watching birds in his home town of St.Ives at the age of 8 and through the local Huntingdon RSPB group he quickly became involved with the local birding scene. From the mid 1980's Stuart became more interested in rare birds in Britain and rapidly built up a collection of photographs from the great rarity photographers of the era including, amongst others, Tim Loseby, David Tipling and Steve Young as he began to travel further afield in search of rare birds. This quest continues and although more laid back these days, by January 2013, he had seen 550 species in Britain & Ireland, according to the arbiter of British Listing, the UK400 Club. 
A passionate interest in birds and commitment to their conservation combined with Stuart's natural enthusiasm and leadership skills led to him being elected as Chairman of St.Neots Bird & Wildlife Club in 1999, a post he held until 2006. During his time in office Stuart saw many local conservation initiatives come to fruition through fund-raising activities and he ensured that St.Neots Bird & Wildlife Club played an important part in local environmental and conservation related issues. Stuart was also a member of Cambridgeshire Bird Club from 1986 to 2012 during which time he served on the Governing Council from 2000 to 2005. 
As well as his 13 year professional association as a staff leader with Sunbird and WINGS, he is a long-standing member of the RSPB,  a Council Member of Bedfordshire Bird Club and an active member of the Wildlife Trusts Woodland Ecology Group. Stuart has also been involved in conservation initiatives further afield and serves on the governing council of the Neotropical Bird Club, assisting vital species conservation work in South America. He is currently also undertaking species-specific bird surveys for the RSPB at several farmland sites in the UK.
Beyond birds Stuart has always maintained a great passion for insects and is a member of the Amateur Entomologists Society and Butterfly Conservation. Stuart has seen all of the resident UK butterflies bar 3 which are normally flying when he is tour leading! He plans to see the remaining 3 (Mountain Ringlet, Chequered Skipper and Scotch Argus) one day, just not sure when. More recently Stuart has become actively involved in promoting cetacean conservation through the work of Ric O'Barry, in his attempts to draw attention to the seemingly endless slaughter of Dolphins and Pilot Whales in Japan - a total of around 22,000 each year. Stuart also supports the work of the Sea Shepherd as they put pressure on Japan to put an end to 'research' whaling in the southern oceans, currently accounting for the slaughter of over 1000 great whales each season.
Stuart spent 12 succesful years at senior management level in Local Government where he was responsible for projects and services covering a wide range of frontline service delivery. Starting off in Revenues & Benefits, he moved to Environmental Policy, European Projects and finally he took charge of the Business Support function for Education, responsible for over 100 staff across 8 service areas and an operating budget of over £1M. Between 2003 and 2009 Stuart completed two professionally accredited management training programmes and became a Chartered Manager. He is a member of the Chartered Management Institute (MCMI) and The Institute of Leadership and Management (MInstLM).
Following this period of his career, the opportunity was presented through redundancy to make a career change, and indulge in his passion for natural history full-time, whilst also making excellent use of his considerable experience of managing people, resources and projects. Commencing training to be a professional ecologist, he is now a member of the Chartered Institute of Ecology and Environmental Management (CIEEM) and has successfully completed professional training in the disciplines shown on the 'Ecological Consultant' page. He is also a CITB accredited CSCS Construction Skills, Manager & Professional WHITE/ GREY cardholder. 
Since changing the direction of his career, Stuart has succesfully completed a Professional Certificate in Ecological Consultancy and is currently studying part-time with Manchester Metropolitan University for an MSc in Biological Recording. He was elected a member of The Society of Biology (AMSB) in November 2013.